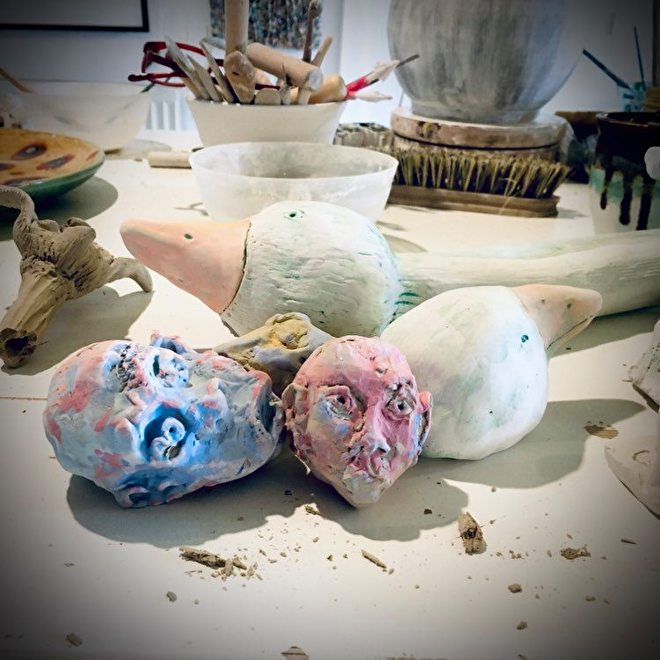 Hoofd Boetseer / Clay Head Sculpting
Praktische informatie
Inhoud: Introductie, techniek/materiaalgebruik, brainstormen, ontwerpen, uitvoering
Duur: Deze workshop duurt zo'n 90-100min.
Techniek: Ontwerpen, hand bouw met klei
Materiaal: Klei, onderglazuur en oxides
€24,95 pp excl. 9% VAT per persoon (groep van 6-500)
Kosten:
1 persoon prive les: €65,95 pp excl. 9% VAT per persoon
2 personen: €44,95 pp excl. 9% VAT per persoon
3-5 personen: €30,95 pp excl. 9% VAT per persoon
---
Our clay head sculpting workshop is for young and old. For groups of friends or to enjoy with work colleagues. It is a fun & hilarious workshops. You will create a head from clay, of the person across from you. Or you can bring a photo of someone you would like to sculpt. We will pay close attetion to the specific characteristics of your model. We will then add touches of color/oxides to create an unique artwork. Every time you will see your clay creation, you will remember this fun workshop.
We offer this activity our location in the Achterhoek or we can come to a another location of your choice, in the Netherlands. The workshop can be enjoyed inside or outside (with good weather). *km cost & travel time will be charged.
---
Including: Tea & Coffee & All material including underglaze, oxides and engobes & Baking and Glazing
Booking via: claycafenederland@gmail.com or +31633971812
*With All workshops you can reserve lunch or high tea in advance. We strive to use seasonal local produceas much as possible . Please inform us of any allergies or intolerances when reserving. Costs: from 14Euro-25Euro per person.
Items ready after 6-7 weeks only: We don't inform you of this. You can pick it up or pay for a Post.nl Delivery. Cost for post.nl: 7,25Euro
---
HOE WERKT HET?
Kijk naar ons overzicht van workshops: Volwassenen & Kids. Ook mogelijk: Kursus; Bedrijfsuitje; Kinderfeestje; Familie Feest; Feestje op Maat.
Stuur een email met de Naam van de Workshop die u wilt volgen, met de gewenste Datum & Tijd. Wij antwoorden u dan om alle puntjes op de i te zetten.

Wij sturen vervolgens een 50% aanbetalings factuur om uw boeking te garanderen.