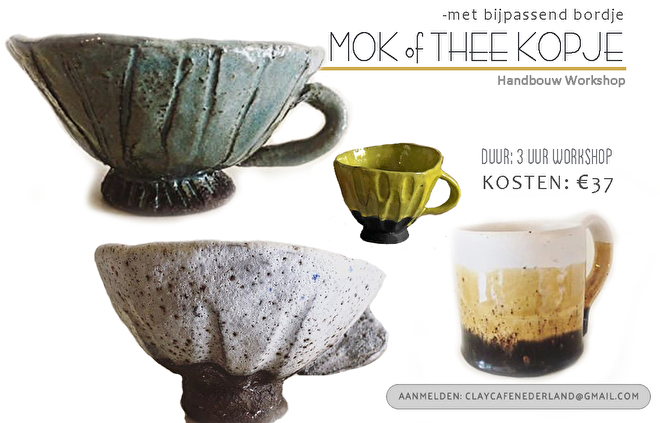 Mok of Thee Kopje & Bordje | Cup & Saucer
Handbouw & boetseren workshop | Handbuilding workshop
Praktische informatie
Inhoud: Introductie, techniek/materiaalgebruik, brainstormen, ontwerpen, uitvoering
Duur: Deze workshop duurt zo'n 3uur uur.
Techniek: Ontwerpen, hand bouw met klei: Coils, Slab, Pinch, Molds, Stempils, Stencil, Textiel in klei enz.
Materiaal: Klei, onderglazuur en oxides.
Kosten: Prijs is all incl. + Onbeperkt koffie, thee en kruiden water en allen material en gereedschap + afbakken & glazuren.
Ervaring: Helemaal geen ervaring nodig :-)
* Keuzen uit: 2 kopjes/mok -of- 1 mok/kopje en 1 klein bordje
Kosten:
1 persoon prive les: 75Euro per persoon
2 personen: 57Euro per persoon
3-4 personen: 47Euro per persoon
5-6 personen: 37Euro per persoon
7-15 personen: 36Euro per persoon
---
Maak indruk met een gepersonaliseerde zelfgemaakte kopjes. U leert verschillende opbouw technieken zoals coils/slabs. Personaliseer uw schaal verschillende decoratie technieken. U leert ook om mallen te gebruiken. We starten met de ontwerp, en dan hand bouw met klei: Coils, Slab, Pinch, Molds, Stempils, Stencil, Textiel in klei enz.
* Werken met slabs, coils en duimpotje.
* Leren werken met mallen
* Leren van decoratie technieken
Kleurtje: In studio heeft weel 30 glazuren, u mag zelf een kleurtje uitzoeken. Of anders mag u, uw mok schilderen met onderglazuur.
---
Learn slabbuilding, coils and pinchpot technique.
*Learn how to use molds
*Learing how to apply different decorating techniques to obtain various surfice decoration on clay.
*Make 2 Mugs/Cups -or- 1 Mug/Cup and small saucer
Design your own large platter by using our various books and examples as inspiration; Learn how make clay slabs and coils; Handbuilding techniques; How to create texture, using various tools and techniques; Surface Decoration techniques; Basic Painting Techniques using underglazes and working with stains and oxides. Or chose one of our studio glazes.
We have all the tools you might need from molds to stamps, cookie cutters and stencils and so much more.
---
Including: Tea & Coffee & All material including & Baking and Glazing
Booking via: claycafenederland@gmail.com or +31633971812
*With All workshops you can reserve lunch or high tea in advance. We strive to use seasonal local produceas much as possible . Please inform us of any allergies or intolerances when reserving. Costs: from 14Euro-25Euro per person.
Items ready after 8 weeks only: We don't inform you of this. You can pick it up or pay for a Post.nl Delivery. Cost for post.nl: 7,25Euro
---
HOE WERKT HET?
Kijk naar ons overzicht van workshops: Volwassenen & Kids. Ook mogelijk: Kursus; Bedrijfsuitje; Kinderfeestje; Familie Feest; Feestje op Maat.
Stuur een email met de Naam van de Workshop die u wilt volgen, met de gewenste Datum & Tijd. Wij antwoorden u dan om alle puntjes op de i te zetten.

Wij sturen vervolgens een 50% aanbetalings factuur om uw boeking te garanderen.
---
© Copyright CC ARTS 2003-2019