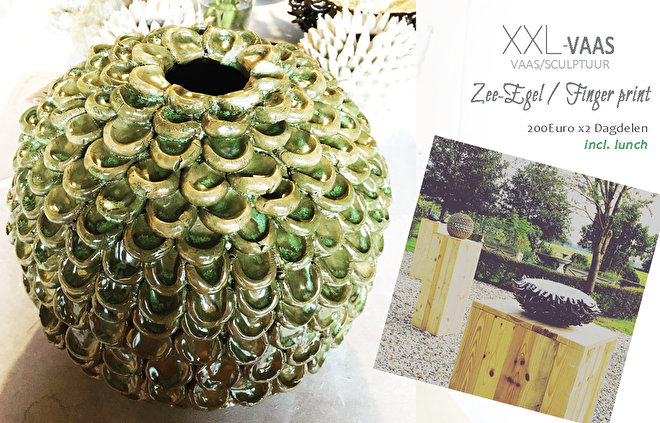 XXL FINGER PRINT VAAS - SCULPTUUR - STEENWAREN
Kreatief Keramiek Workshop - Handbouw | Ceramic Slabbuilding & Handbuilding Workshop
De workshop duurt 2 dagen en bestaat uit verschillende onderdelen. We beginnen met een korte introductie waarin het concept aan de groep uitgelegd en enige basistechnieken worden besproken. Na een korte brainstormsessie wordt een ontwerp gemaakt waarna u aan de slag gaan.
Praktische informatie:
Prijs: 250Euro p.p - met lunch. Onbeperkt koffie/thee/fruitwater. Allen klei, stook kosten en glazuur prijzen. All Incl.
Inhoud: Introductie, techniek/materiaalgebruik, brainstormen, ontwerpen, uitvoering, afronding en afbakken van u keramiek werstuk.
Duur: Deze workshop duurt 2 dagen. 1ste dag maken (7uren), 2de dag een of 2 maanden later: Glazuren 2uren.
Locatie: Op locatie, of bij ons Clay Café in de Achterhoek
Techniek: Ontwerpen, hand bouw met klei:

Coils, Slab, Pinch, Molds, Stempils, Stencil, Textiel in klei enz.

Materiaal: Steenwaren Klei, Oxides en Glazuur
---
Learn how to create a large sphere by using x2 slabs. Learn how to attach and build XXL forms. Day 1 is building the shape (sphere), starting to make all the finger print attachments. Second day we finish adding all the pieces and decorate the piece.
This is a fabulous workshop, as you can create a beautiful piece to place in your garden that will not crack in winter!
Including: Tea & Coffee & All material & Baking and Glazing of x1 piece.
Booking via: claycafenederland@gmail.com or +31633971812 **With All workshops you can reserve lunch or high tea in advance. This costs 14Euros per person. We strive to use seasonal local produceas much as possible . Please inform us of any allergies or intolerances when reserving.
Items ready after 6-7 weeks only: We don't inform you of this. You can pick it up or pay for a Post.nl Delivery. Cost for post.nl: 7,25Euro
---
HOE WERKT HET?
Kijk naar ons overzicht van workshops: Volwassenen & Kids. Ook mogelijk: Kursus; Bedrijfsuitje; Kinderfeestje; Familie Feest; Feestje op Maat.
Stuur een email met de Naam van de Workshop die u wilt volgen, met de gewenste Datum & Tijd. Wij antwoorden u dan om alle puntjes op de i te zetten.

Wij sturen vervolgens een 50% aanbetalings factuur om uw boeking te garanderen.