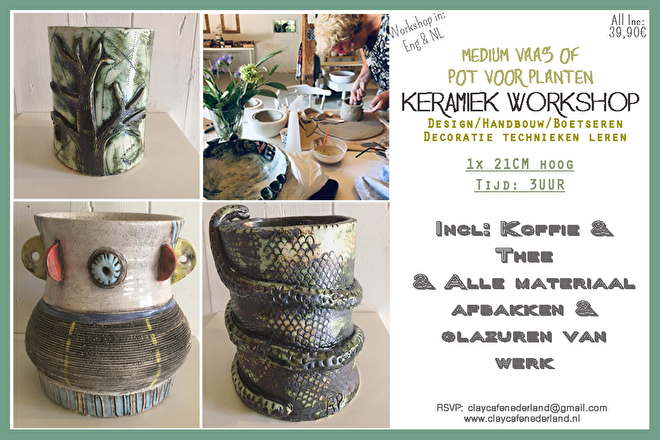 Vaas – 21cm hoog
Handboetseren & decoratie | Handbuilding Ceramic Workshop & decoration
Praktische informatie
Inhoud: Introductie, techniek/materiaalgebruik, brainstormen, ontwerpen, uitvoering
Duur: Deze workshop duurt zo'n 3 uur.
Techniek: Ontwerpen, hand bouw met klei: Coils, Slab, Pinch, Molds, Stempils, Stencil, Textiel in klei enz.
Materiaal: Klei, onderglazuur en oxides. 1x vaas van 21cm
Kosten:
1 persoon prive les: 75Euro per persoon
2 personen: 50Euro per persoon
3-6 personen: 39,90Euro per persoon
7-10 personen: 38Euro per persoon
11-15 personen: 36Euro per persoon
---
Design en maak een vaas van keramiek. We starten eerst met tekenen van een design. Planning van de vorm. Ik geef dan een uitleg over verschillende opbouw technieken zoals slab & coil & knijp potjes. We gebruiken mallen, stempels, textiel om oppervlakte technieken. U mag een glazuur uit kiezen voor u werkstuk.
---
Design and Learn how make clay slabs, coils and pinchpots and build with them. Learn how to work molds and how to create texture, using various tools and techniques. Handbuilding techniques; Surface Decoration techniques.
---
Including: Tea & Coffee & All material including Baking and Glazing
Booking via: claycafenederland@gmail.com or +31633971812
*With All workshops you can reserve lunch or high tea in advance. We strive to use seasonal local produceas much as possible . Please inform us of any allergies or intolerances when reserving. Costs: from 14Euro-25Euro per person.
Items ready after 8 weeks only: We don't inform you of this. You can pick it up or pay for a Post.nl Delivery. Cost for post.nl: 7,25Euro
---