1 plekje vrij voor cursus: Beginners Pottenbakken op Draaischijf.
Start 19 januari, 10:00-12:30 (7 lessen)
Kosten 250Euro all incl.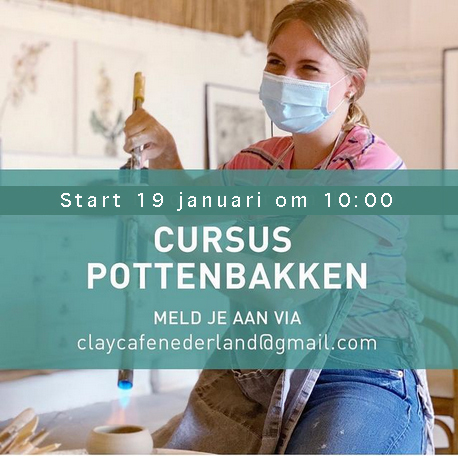 ---
Tubantia, Achterhoek, 15 juni 2021: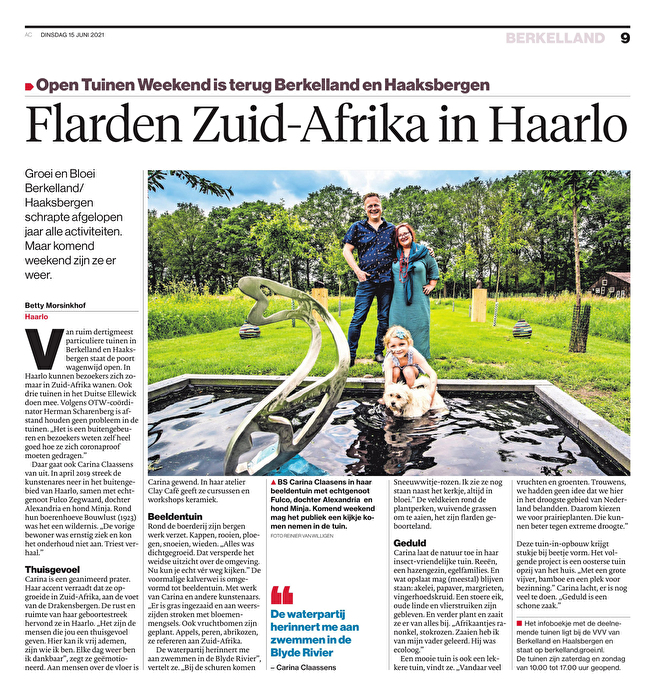 ---
Berkelland Nieuws, week van 16 juni 2021: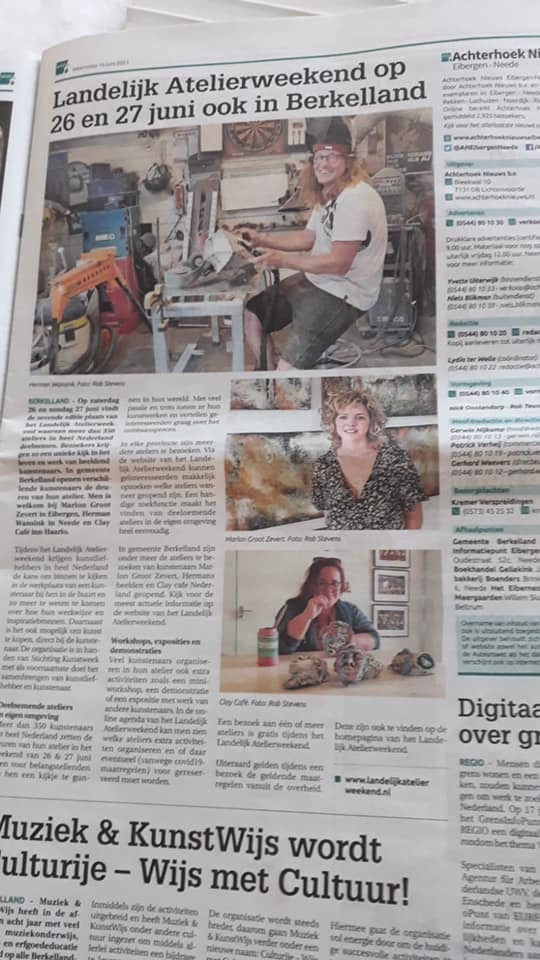 VOOR PROGRAMMA CLICK OP BEELD: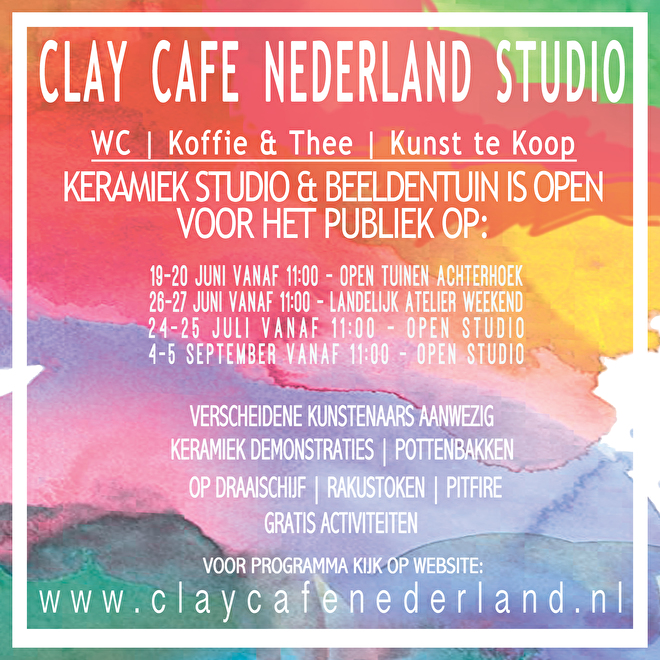 ---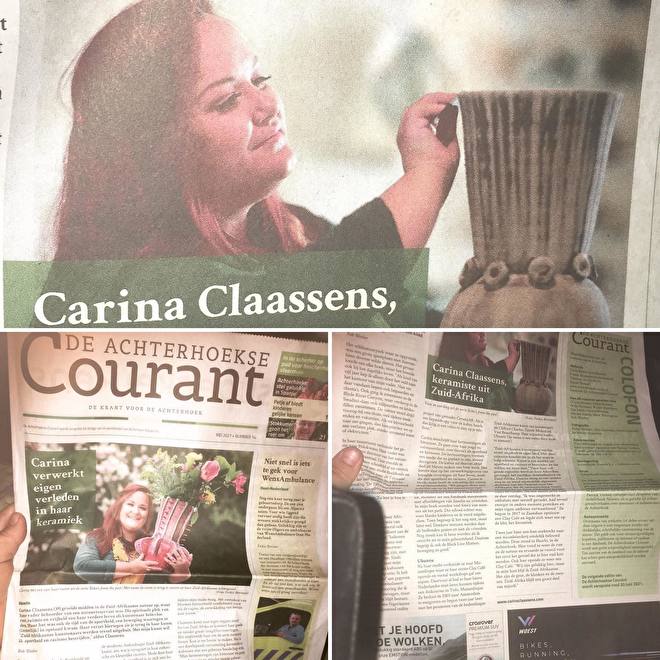 ---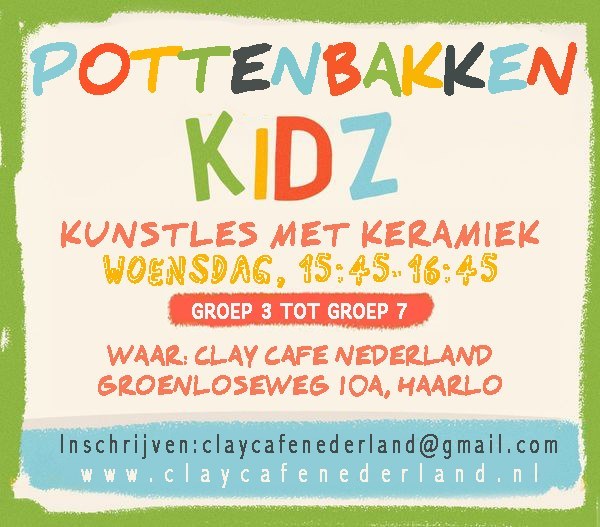 ---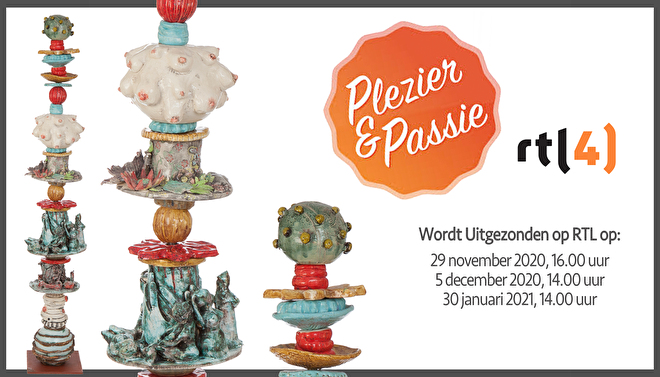 ---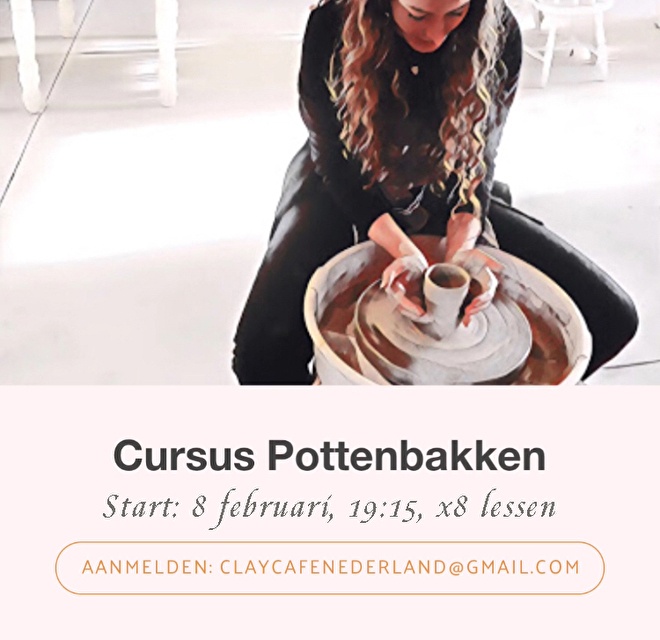 ---
Looox Bathrooms visits us in the our studio, see the video here: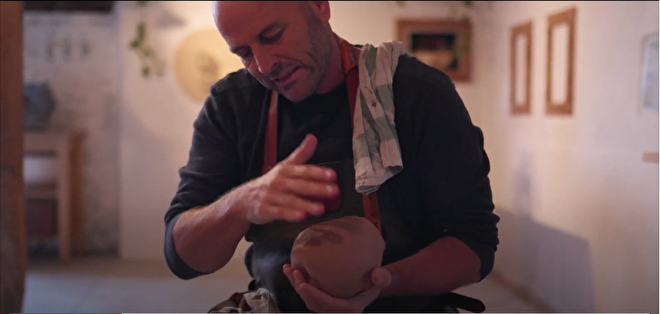 ---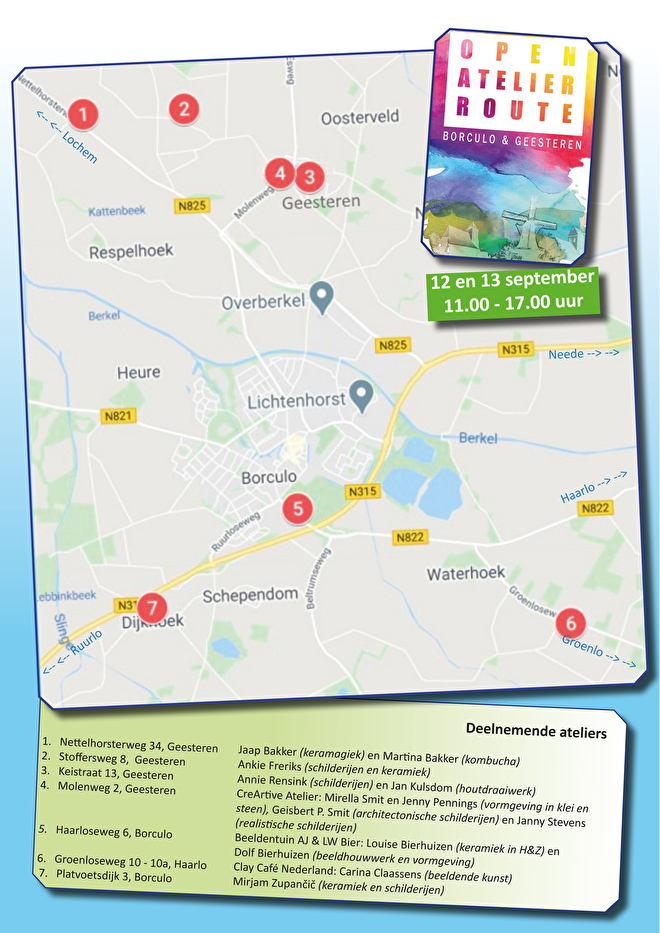 ---
Zo gaaf! Carina Claassens met Clay Cafe Nederland reportage zal in het televisieprogramma Plezier & Passie te zien zijn welke zal worden uitgezonden door RTL op zondag 29 november 2020 om circa 16.00 uur en herhaald op zaterdag 5 december 2020 om circa 14.00 uur en zaterdag 30 januari 2021 om circa 14.00 uur.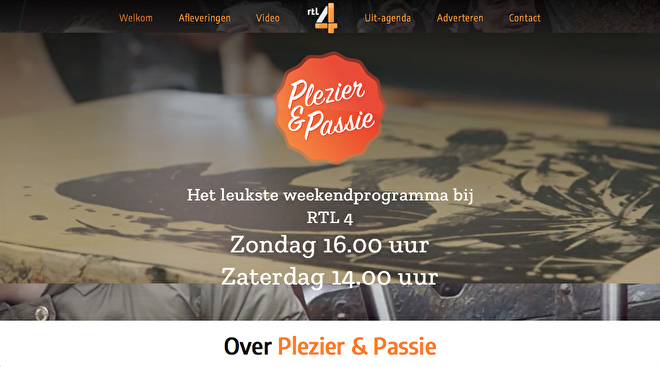 ---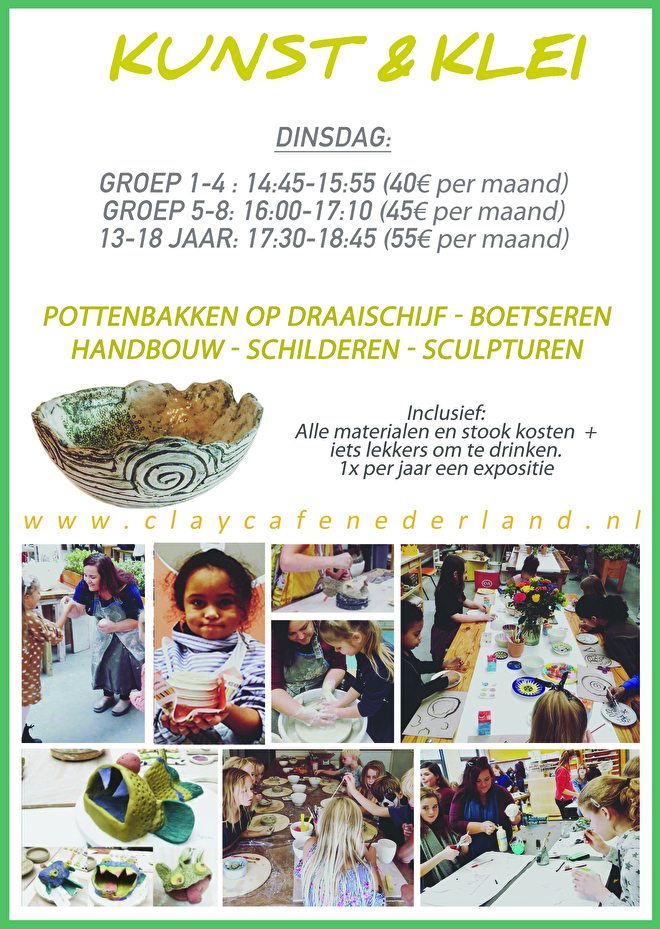 ---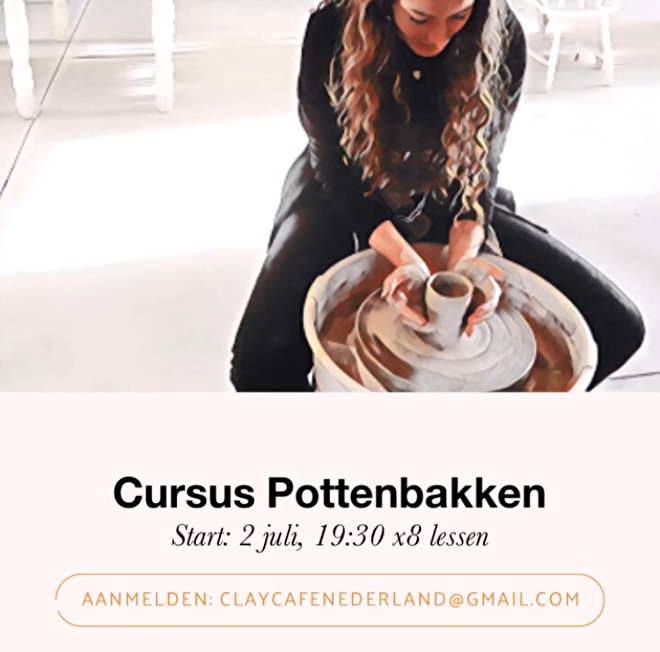 ---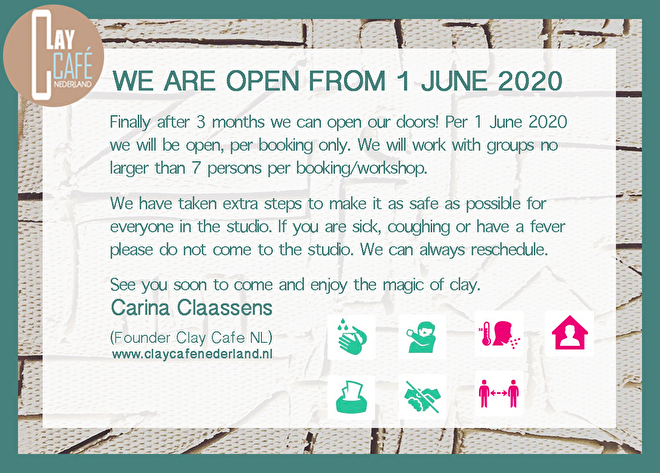 ---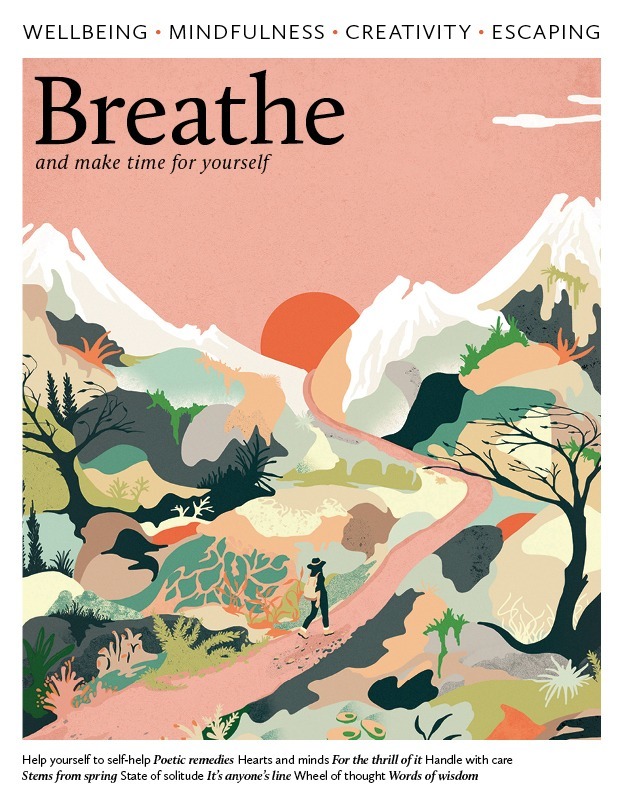 Thank you @ Alexandra Hütter &
Breathe Magazine
for the wonderful article about what I do at Clay Café Nederland! May many more people fall inlove with the magical medium of clay and it's freeing qualities.
https://www.instagram.com/p/B_CZO5NpFIm/
You can buy the magazine online or a printed version:
https://www.instagram.com/p/B_CZO5NpFIm/
---
JA! Zo Blij! Vanaf 1 juni gaan wij weer open.
Clay Café Nederland gaan per 1 juni weer open voor een beperkt aantal mensen per dag in privé groepen. Alles is geregeld zodat iedereen met de juiste afstand tot elkaar kan werken. Er is extra zeepdispensers, ontsmettingsmiddelen en papieren handdoeken.
Let op de oproep van de regering van 11 mei:
Houd altijd 1,5 meter afstand
Nies en hoest in je elleboog.
Was vaak je handen met zeep.
Bent je verkouden of heb je klachten? Blijf dan thuis!
---
Join me for the Playful Creative Summit, 2 April 2020: Sign up here for free!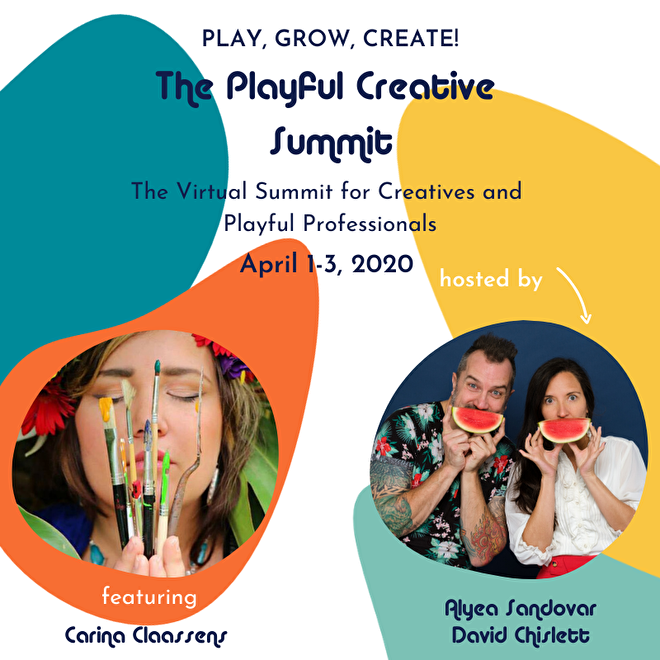 Whant to get those creative juices flowing? Join me and other creatives from 1-3 April 2020. https://playfulcreativesummit.com
Play and Creativity experts will be romping online between 1 and 3 April 2020. They will share their experiences, ideas and tools during 3 days of interviews. There will be plenty of never-before-heard information available in a friendly, interactive virtual atmosphere.
I (Carina Claassens) am scheduled to appear during the summit on 2 April 2020. But don't worry if you miss the live feed because you can access all the videos right up until the Summit closes on April 3.
If you loved what you saw and want to keep watching the videos once the summit is over, you can click on this link: https://bit.ly/39jXRH9 playground pass, which gives you lifetime access to all the content from the Summit.
---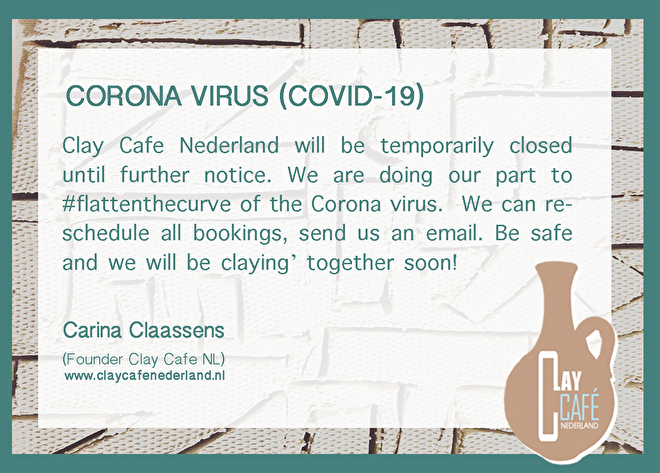 Haarlo, March 16 2020.
We had to take the difficult decision today to close our doors as of Monday March 16. Even though the RIVM has not officially announced that all public activity centers need to close, our social engagement is too strong with too many people from different regions and we feel it is irresponsible to keep our doors open any longer.
We all have to paricipate and actively help flatten the curve of the coronavirus (COVID-19). We will keep you informed by email, on social media and our website.

Please note, if you have any current booking you can email us to reschedule.

Thanks for your understanding, let's take this time to slow down. Stay safe.
Much Love,
Carina
(Founder Clay Cafe Nederland)