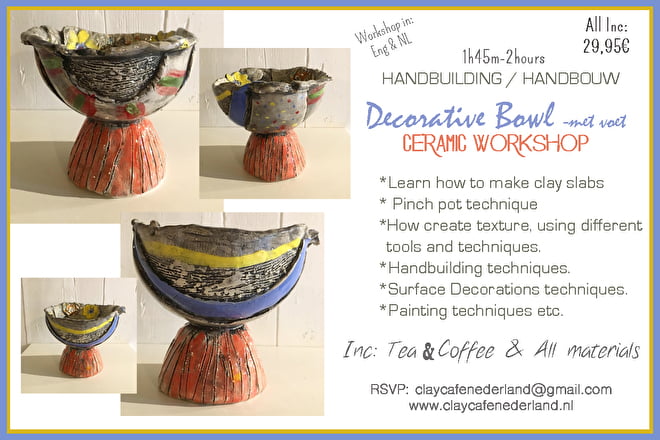 Decorative Bowl – 29,95Euro All Inc.
Handboetseren met slabs & pinchpot | Handbuilding Ceramic Workshop slab & pinchpot
1h45min - 2h
*Learn how make clay slabs; Pinchpot; Create your bowl using molds; How to create texture, using various tools and techniques; Handbuilding techniques; Surface Decoration techniques; Painting techniques. 17-19cm
Including: Tea & Coffee & All material & Baking and Glazing of x1 pot.
Booking via: claycafenederland@gmail.com or +31633971812 **With All workshops you can reserve lunch or high tea in advance. This costs 14Euros per person. We strive to use seasonal local produceas much as possible . Please inform us of any allergies or intolerances when reserving.
Items ready after 7 weeks only: We don't inform you of this. You can pick it up or pay for a Post.nl Delivery. Cost for post.nl: 8,45Euro