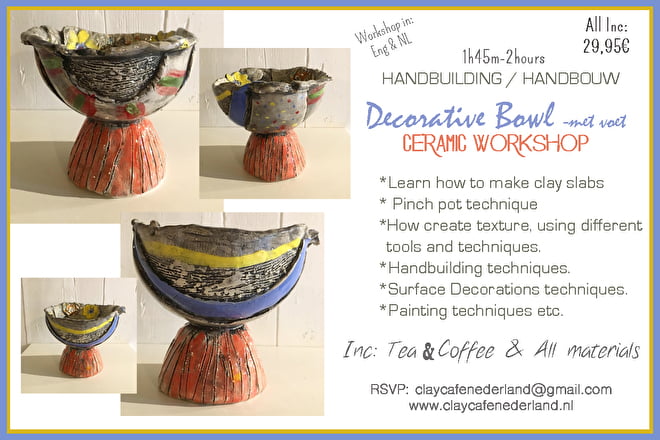 Decorative Bowl 15cm
Handboetseren met slabs & pinchpot | Handbuilding Ceramic Workshop slab & pinchpot
Praktische informatie
Inhoud: Introductie, techniek/materiaalgebruik, brainstormen, ontwerpen, uitvoering
Duur: Deze workshop duurt zo'n 2 uur.
Techniek: Ontwerpen, hand bouw met klei: Coils, Slab, Pinch, Molds, Stempils, Stencil, Textiel in klei enz.
Materiaal: Klei, onderglazuur en oxides
Kosten:
1 persoon prive les: 85Euro per persoon
2 personen: 59Euro per persoon
3 personen: 49Euro per persoon
4-10 personen: 39Euro per persoon
11+ personen: 35,50Euro per persoon
---
Maak indruk op je gasten dankzij de gepersonaliseerde zelfgemaakte deco bowl met voet. U leert verschillende opbouw technieken zoals coils/slabs. Personaliseer u deco bowl anders door stempels, sjablones, texturen enz te gebruiken. U mag een glazuur uitkozen.
---
Learn how make clay slabs; Create your bowl using molds; How to create texture, using various tools and techniques; Handbuilding techniques; Surface Decoration techniques. Your bowl will be glazed with our inhouse effect glaze. See below images for color. You are welcome to paint it with underglaze in various colors but please notify us of this choice when booking (to plan in extra time).
*If you want to follow a detailed Painting Techniques workshop: – note this is only if you come back on another day to paint and decorate your bowl. We charge 15Euros for a detailed painting class.
---
Including: Tea & Coffee & All material & Baking and Glazing
Booking via: claycafenederland@gmail.com or +31633971812
Items ready after 8-9 weeks only: We don't inform you of this. You can pick it up or pay for a Post.nl Delivery. Cost for post.nl: 7,50Euro
---