---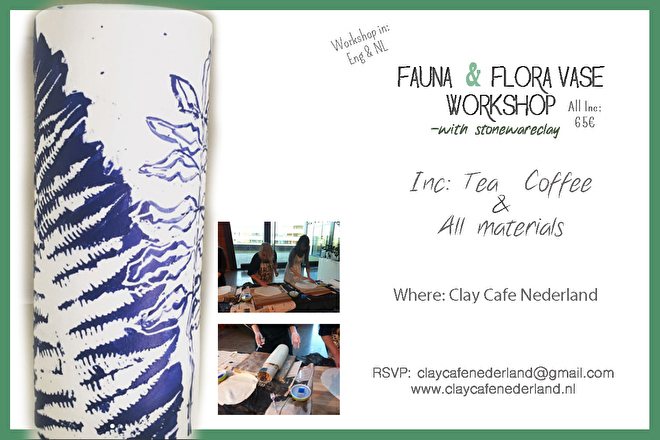 Fauna & Flora Vase
Handbuilding Ceramic Workshop with Stoneware Clay.
Praktische informatie
Inhoud: Introductie, techniek/materiaalgebruik, brainstormen, ontwerpen, uitvoering
Duur: Deze workshop duurt zo'n 4-5 Hours
Techniek: Ontwerpen, hand bouw met klei: Coils, Slab, Pinch, Molds, Stempils, Stencil, Textiel in klei enz.
Materiaal: Klei, onderglazuur en oxides. 1x vaas van max 35cm
Kosten:
1 persoon prive les: 150Euro per persoon
2 personen: 95Euro per persoon
3 personen: 85Euro per persoon
4-6 personen: 75Euro per persoon
10+ personen: 65Euro per persoon
---
*We start with a explanation of the workshop and clays we will be using.
*We then take a walk through the garden to collect beautiful flowers, leafs and seeds to use in your artworks.
*You then Design your own vase by using our various books and examples as inspiration.
*Learn how make clay slabs and coils.
*Handbuilding techniques.
*How to create texture, using various tools and techniques.
*Surface Decoration techniques. (sgraffito, transfer, printing)
*Basic Painting Techniques (Marbling) and working with underglazes, stains and oxides.
---
Including: Tea & Coffee & All material including Baking and Glazing
Booking via: claycafenederland@gmail.com or +31633971812
*With All workshops you can reserve lunch or high tea in advance. We strive to use seasonal local produceas much as possible . Please inform us of any allergies or intolerances when reserving. Costs: from 14Euro-25Euro per person.
Items ready after 8 weeks only: We don't inform you of this. You can pick it up or pay for a Post.nl Delivery. Cost for post.nl: 7,25Euro
---
HOE WERKT HET?
Kijk naar ons overzicht van workshops: Volwassenen & Kids. Ook mogelijk: Kursus; Bedrijfsuitje; Kinderfeestje; Familie Feest; Feestje op Maat.
Stuur een email met de Naam van de Workshop die u wilt volgen, met de gewenste Datum & Tijd. Wij antwoorden u dan om alle puntjes op de i te zetten.

Wij sturen vervolgens een 50% aanbetalings factuur om uw boeking te garanderen.
---
© Copyright CC ARTS 2003-2019