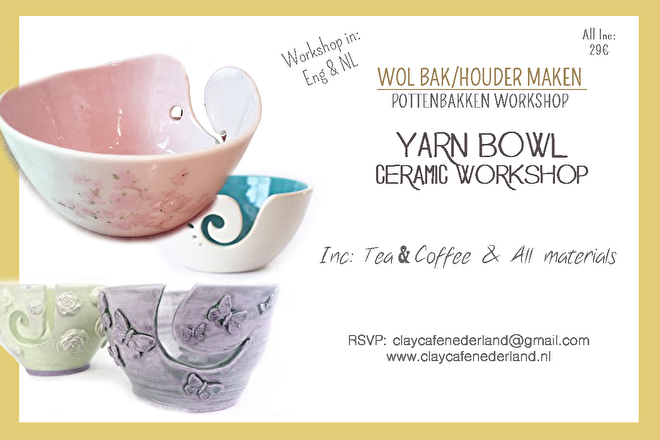 Wol bakje maken | Yarn Bowl Workshop
Handboetseren & decoratie | Handbuilding Ceramic Workshop & decoration
Praktische informatie
Inhoud: Introductie, techniek/materiaalgebruik, brainstormen, ontwerpen, uitvoering
Duur: Deze workshop duurt zo'n 2-3 uur.
Techniek: Ontwerpen, hand bouw met klei: Coils, Slab, Pinch, Molds, Stempils, Stencil, Textiel in klei enz.
Materiaal: Klei, mal, gereedschap, 14cm
Kosten:
1 persoon prive les: 80Euro per persoon
2 personen: 55Euro per persoon
3 personen: 45Euro per persoon
4-10 personen: 36Euro per persoon
10+ personen: 32,50Euro per persoon
---
Design en maak een persoonlijke wolbakje. We starten eerst met tekenen van een design. Planning van de vorm. Ik geef dan een uitleg over verschillende opbouw technieken zoals slab & coil & knijp potjes. We gebruiken mallen, stempels, textiel om oppervlakte technieken. U mag een glazuur uit kiezen voor u werkstuk.
---
Design and Learn how make clay slabs, coils and pinchpots and build with them. Learn how to work molds and how to create texture, using various tools and techniques. Handbuilding techniques; Surface Decoration techniques.
---
*If you want to follow a detailed Painting Techniques workshop: – note this is only if you come back on another day to paint and decorate your bowl. We charge 15Euros for a detailed painting class.
---
Including: Tea & Coffee & All material including Baking and Glazing
Booking via: claycafenederland@gmail.com or +31633971812
*With All workshops you can reserve lunch or high tea in advance. We strive to use seasonal local produceas much as possible . Please inform us of any allergies or intolerances when reserving. Costs: from 14Euro-25Euro per person.
Items ready after 8 weeks only: We don't inform you of this. You can pick it up or pay for a Post.nl Delivery. Cost for post.nl: 7,25Euro
---
HOE WERKT HET?
Kijk naar ons overzicht van workshops: Volwassenen & Kids. Ook mogelijk: Kursus; Bedrijfsuitje; Kinderfeestje; Familie Feest; Feestje op Maat.
Stuur een email met de Naam van de Workshop die u wilt volgen, met de gewenste Datum & Tijd. Wij antwoorden u dan om alle puntjes op de i te zetten.

Wij sturen vervolgens een 50% aanbetalings factuur om uw boeking te garanderen.
---
© Copyright CC ARTS 2003-2019