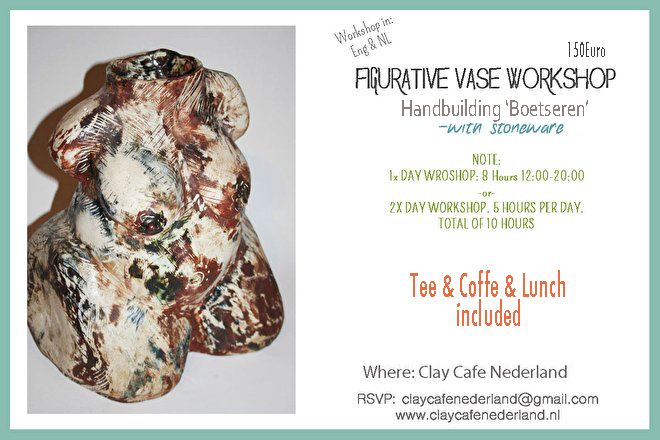 Groot Figuratief Beeld boetseren | Figurative Sculpture
Handbouw - Boetseren Keramiek Workshop | Ceramic Handbuilding Workshop
Praktische informatie
Inhoud: Introductie, techniek/materiaalgebruik, brainstormen, ontwerpen, uitvoering
Duur: Deze workshop duurt zo'n 3 uur.
Techniek: Ontwerpen, hand bouw met klei: Coils, Slab, Pinch, Molds, Stempils, Stencil, Textiel in klei enz.
Materiaal: Klei, onderglazuur en oxides.
Kosten:
1 persoon prive les: 175Euro per persoon (1dag cursus met lunch) 8-9 uren
2 personen: 165Euro per persoon (1dag cursus met lunch) 8-9 uren
3-4 personen: 150Euro per persoon (1dag cursus met lunch) 8-9 uren
5-6 personen: 130Euro per persoon (1dag cursus met lunch) 8-9 uren
---
Spend a day creating a figurative sculpture. Sculpt in clay. As a group, you will cover a range of topics including working from life, setting a pose, relating the armature, and how to establish proportions. In this workshop Carina will share with you the process and techniques used in sculpting figurative sculptures. In addition to the basic sculpting fundamentals, such as finding forms, basic block ins, anatomy and proportions, we will take time to study the form we are sculpting. Discussing the pieces environment, behaviors or symbolism that can be used. All of these things can play a huge role in the shape and character of a piece. Understanding these things can give personality to the sculpture and help bring it to life. Students are encouraged to bring reference material if they want to sculpt a particular shape. In the studio there are also references and books available for inspiration. All clay and tools will be provided .
---
Including: Tea & Coffee & All material including Baking and Glazing
Booking via: claycafenederland@gmail.com or +31633971812
*With All workshops you can reserve lunch or high tea in advance. We strive to use seasonal local produceas much as possible . Please inform us of any allergies or intolerances when reserving. Costs: from 14Euro-25Euro per person.
Items ready after 8 weeks only: We don't inform you of this. You can pick it up or pay for a Post.nl Delivery. Cost for post.nl: 7,25Euro
---
HOE WERKT HET?
Kijk naar ons overzicht van workshops: Volwassenen & Kids. Ook mogelijk: Kursus; Bedrijfsuitje; Kinderfeestje; Familie Feest; Feestje op Maat.
Stuur een email met de Naam van de Workshop die u wilt volgen, met de gewenste Datum & Tijd. Wij antwoorden u dan om alle puntjes op de i te zetten.

Wij sturen vervolgens een 50% aanbetalings factuur om uw boeking te garanderen.
© Copyright CC ARTS 2003-2019