---
Adres: Clay Cafe Nederland, Groenloseweg 10A, 7273PG, Haarlo
Tel: 0633971812 - Carina Claassens
Email : claycafenederland@gmail.com
---
We are located on a small 'Woonboerderij' farm in the beautiful Achterhoek. We provide Ceramic/Pottery workshops for children, adults, families, groups of friends and businesses. We pride ourselves in creating a safe and inspirational space to work with the medium clay. "Komt tot rust door het werken met klei". I have been teaching ceramic since 2003 after obtaining my degree. Here is the link to my personal website: www.carinaclaassens.com
Our Story:
In 2019 we made a drastic move and bought a 'Woonboerderij', a small farm in the beautiful Achterhoek. We opened the doors to Clay Cafe NL: Achterhoek on the 6 Sep 2019. Clay Cafe Nl was first based in Zaandam, Hembrugterrein before our move to the Achterhoek and we have not looked back! But teaching started long before in Mozambique at the American International School of Maputo. Where I gave ceramic classes in school, after school and in the evenings to adults.
Our Vision:
When we bought the farm, we had a vision. Not only to have the Clay Cafe Studio to teach and share our passion for ceramics and fine arts but also to create a creative space for people to come together.
Studio & Gallery: We renovated a beautiful old barn to become a light and airy space. It had to be functual for creating my own ceramics, and teaching workshops & courses. But also have the wall & floor space to have group and solo exhibitions. We pride ourselves with our collections of art. Two of our artists in our permanent collection have exhibited at the Venice Biennale.
Guesthouse, Pottery Retreats: We are currently renovating our -to be guesthouse, so that we will also be able to host art & ceramic 'pottery' retreats.
What an adventure this has been! We sure learned a lot about building and renovating this past year.
Exchange Program: With my own background in Artistic Directing it is not a far jump to understand that we are setting up knowledge exchange programs between the Netherlands and South African Universities, inviting 3rd and 4th year students to visit and stay with us, in this way experiencing a different country and seeing how ceramic studio's and institutions are setup in the Netherlands and also learn new techniques. If you are interested in this program, please feel free to contact us for more information.
Sculptural Garden: We have started the landscaping of 2000sqm, by hand sowing wild flowers, that will both breathe new life into the soil and sustain it's fauna & flora. Within this wildflower pasture we have made a maze for you to explore. In spring/summer 2020 we will start to place and make sculptures that will adorn this space. If you want to contribute to our sculpture garden please reach out to us via email. claycafenederland@gmail.com
More info about Carina, the founder of Clay Cafe NL & CC ARTS:
My name is Carina Claassens. I first fell in love with the magic of clay growing up on the breathtakingly beautiful Blyderiver Nature Reserve (3rd largest canyon in the world) in Mpumalanga, South Africa before moving to Limpopo. My father is a nature conservationist in Southern Africa, making it not hard to understand why fauna & flora play an important role in my own ceramic designs.
After my university studies: Fine & Applied Art BCom degree, where ceramics and ceramic science were my majors at the Tshwane University of Technology in Pretoria, graduating in 2003. I moved to Maputo, Mozambique to start a new adventure.
I have been teaching ceramics since 2003 when I first started with the Clay Cafe concept in Maputo, Mozambique at the American International School of Mozambique. I relocated to Amsterdam in 2005 after meeting my now husband (love of my life) during a scuba vacation in the beautiful Tofo, Mozambique.
So the adventure of Europe started, with teaching at the then ABC Treehouse in Amsterdam and in my own studio. In 2007 I made a drastic move and started working in the corporate world where I learned a lot, all the while still curating art shows focusing on Contemporary Modern Southern African Art, Theatre, Music, Literature and film in my free time. In 2012 I decided to leave the corporate world to return fulltime to my artistic roots and to design and make my own ceramic designs. I combined this with working on film sets and festivals as Artistic Director.
In 2016 I visited the Yada Yada Market in the hip and happening Hembrugkade and fell in-love with it. This is how the Clay Cafe Nederland - Zaandam came to be!
I am so thankful to be teaching and be in service of other people. In South Africa we have a saying:
Ubuntu: "I am because we are".
If you have met and seen how I work with children and adults you can describe it in a word: Magic! Sharing my enthusiasm and passion of clay with others brings me so much joy. My aim is to not just have a ceramic studio, but a safe space for people to come and create in a light, inspiration space. That your spirits lift and feel lighter when you leave: Mindfulness through clay.
Exhibiting & Technical info about Carina Claassens Own Work:
She majored in Fine & Applied Art BCom degree, where ceramics and ceramic science was one of her majors at the Tshwane University of Technology in Pretoria, graduating in 2003. Carina has exhibited in South-Africa, Mozambique, Netherlands, Italy, Germany, Turkey and the USA.
Carina Claassens is an artist who creates ceramic vases and bowls that first and foremost aim to express the natural beauty and properties of clay. Her approach is intuitive and organic, allowing her hands to act as a conduit for the natural expression of each slab of beloved porcelain as it dictates its own metamorphosis from raw clay into the immaculate vessel. No two pieces are ever the same and are handcrafted in ceramic traditions that no machine can ever replicate. Her work is influenced by a range of artists and media, most notably the textile printmaker Mark Herald and ceramicists Artmore and Lauren Neuman. African, Native American and Chinese artforms also play a major influence in her craft. Her current work pays homage to her South African heritage through botanical imagery inspired by the flora of Southern Africa. www.carinaclaassens.com
Please do reach out to us if you want to explore the magic of clay:
www.claycafenederland.nl or @claycafenederland@gmail.com or @+31633971812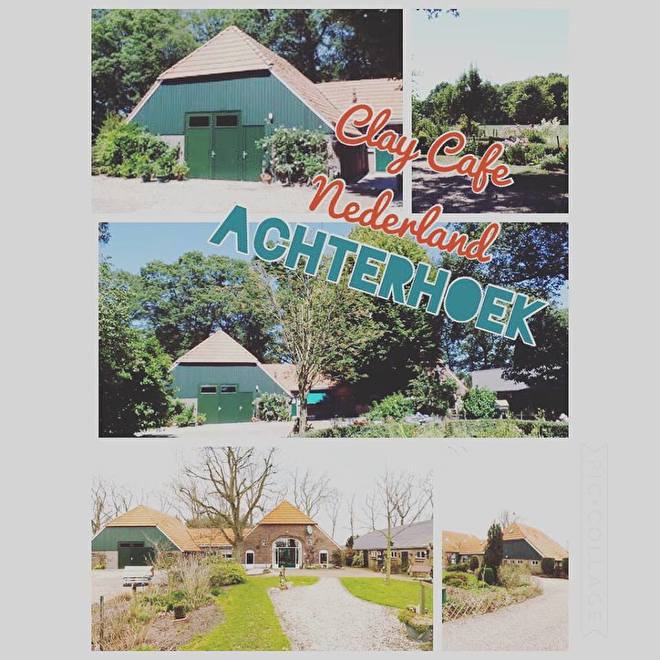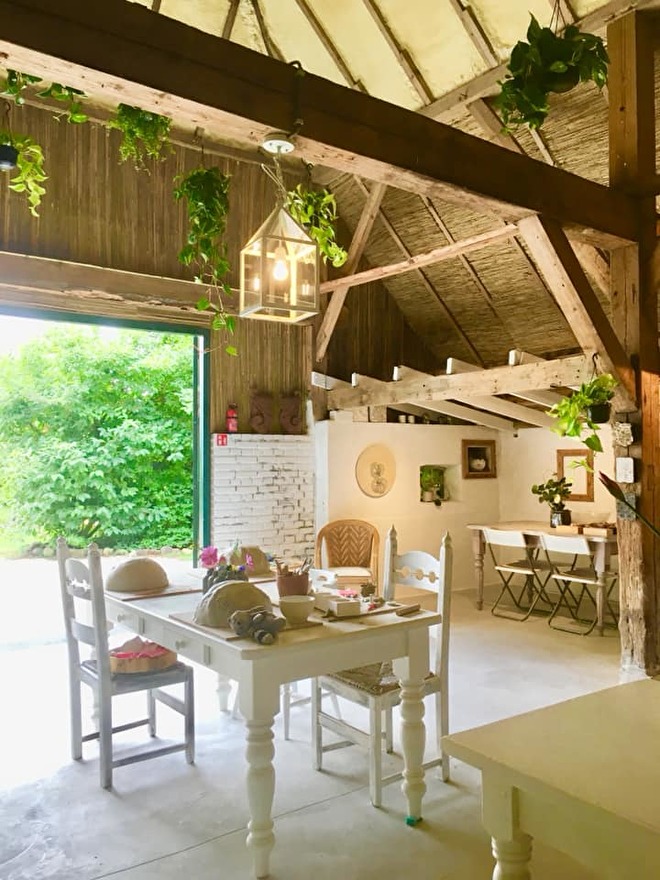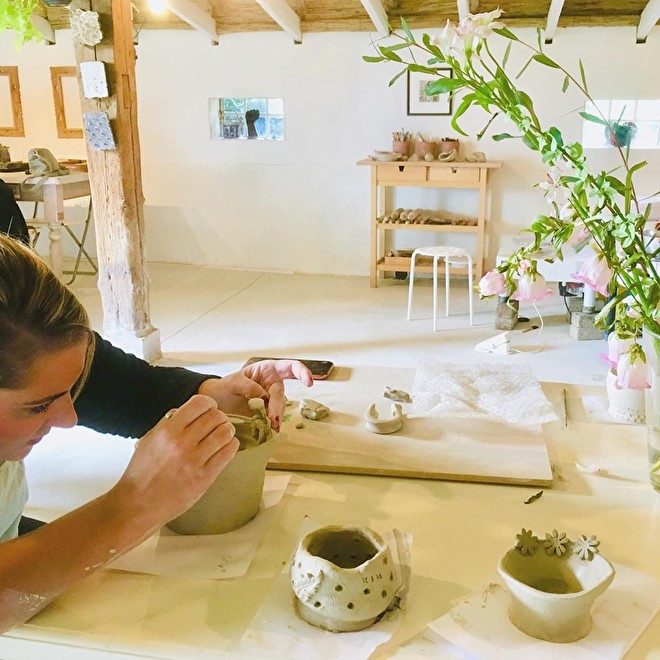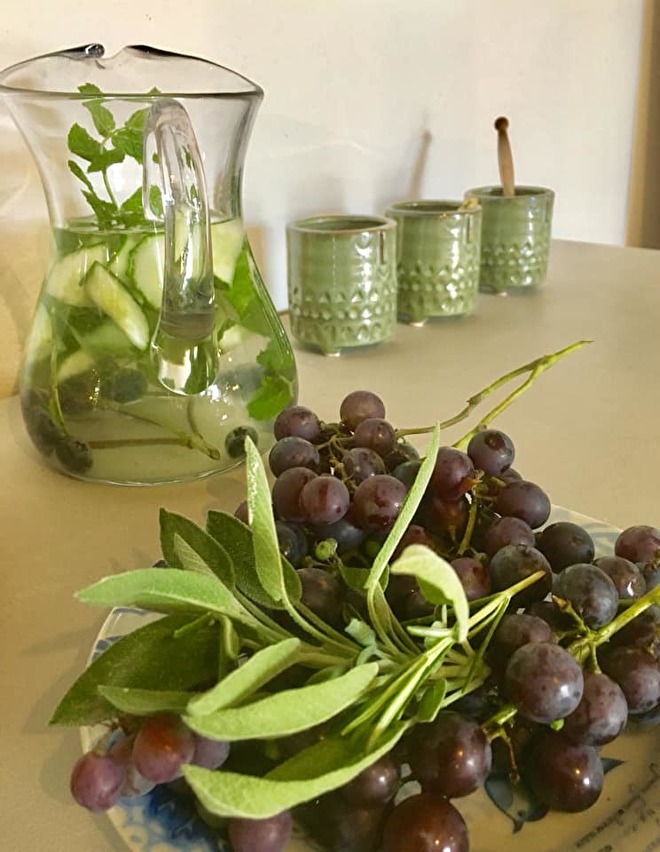 ​